CanSkate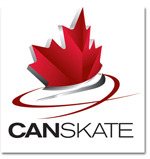 CanSkate is Skate Canada's flagship learn-to-skate program designed for beginners for all ages that focuses on fun, participation and basic skill development. CanSkate centers on physical literacy and the fundamental skills needed to take part in any ice sport such as figure skating, hockey, ringette, speed skating or just skating for fun. Skaters progress at their own pace and earn badges as they advance through the six stages of the CanSkate program. Skaters are taught by NCCP Certified Professional Coaches supported by Program Assistants from our StarSkate program. All lessons are taught in a group lesson format.
Upper Canada Skating Club offers the following CanSkate programs based on age and ability:
Pre-School 3+
No skating ability required.
Pre-CanSkate 5+
No skating ability required.
CanSkate 5+
Skater must be able to skate the entire perimeter with speed, skate backwards and be able to stop going both forwards and backwards. Skaters who are unable to meet this criteria must register for the Pre-CanSkate program.
Teen 13+/Adult Learn to Skate
No skating ability required.