STAR 1-5 Assessments
The chart below listed assessments that are available to skaters in the STAR 1-5 Program.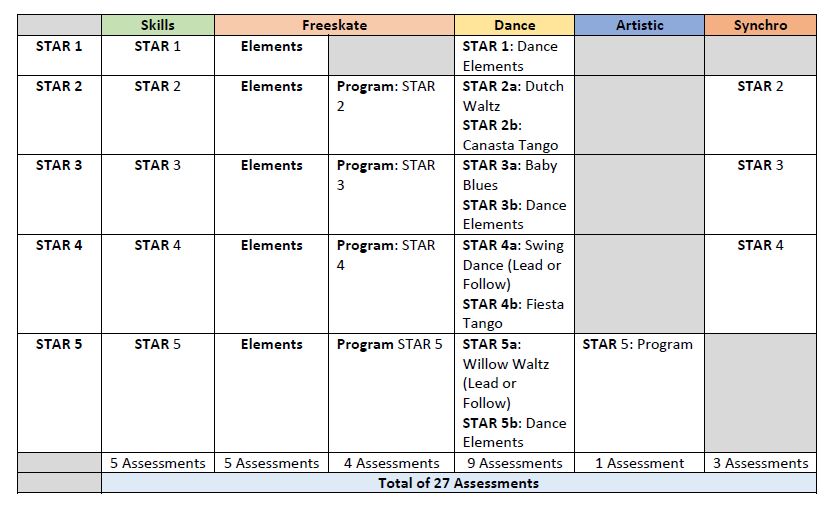 STAR 1 -5 assessments are less formal than Assessment Days. Skaters will be evaluated during a regular session by their own coaches.

STAR 1 assessments are the least formal. Depending on the coaches' preferences, skaters may be allowed to wear their practice skating outfits. As skaters progress from STAR 1 to 2, 3, and 4, the tests become more formal. Skaters will have to wear their skating dresses, do up their hair etc. It is to prepare skaters for higher level testing which they will be evaluated by judges appointmented by Skate Ontario.

STAR 5 assessments will be similar to tests in the Assessment Day setting where skaters are expected to arrive early and dress properly.

Skaters Must have passed the corresponding preceding level (per discipline).

In dance, skaters may be assessed on STAR 2b prior to STAR 2a, however must pass the complete STAR 2 before being assessed on either STAR 3 assessment

In freeskate, skaters may be assessed on the element portions separately from the program assessments. To achieve a full STAR level, both portions must be passed.

For a detailed Upper Canada SC STAR 1-5 Assessment Guide, click here.
Skate Canada STAR 1-5 Assessment Guide
Click here for the information provided by Skate Canada.